November 1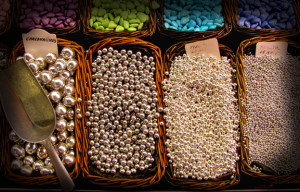 Whether you're trying to keep up with NaNoWriMo or a New Year's resolution, competing with fellow writers, or just looking for a little extra boost to your public accountability factor, using a visual word count meter can be just the ticket to keep your fingers moving.
Below are the 13 best places I found to get free word counters for your blog, social profile, or website. (If you see one you like, click the site name in large print to get it for yourself.) Some are simple. Others have a bunch of options to let you play with the design and style. Each of them will let you measure your writing progress as you go, and that's the main thing. Please note: I have not tried all of these, so — as always — use your own good judgement.
With any of these tools, unless noted otherwise, you can manually adjust the number to reflect your own individual writing goal. Also, if you select one of the meters which relies on outside image hosting, keep in mind the image you've chosen could experience some overload the first few days of November and go blank for a moment or two as the WriMos descend back into the cybersphere. Hang in there. You know we drop off like flies.
(Click the bigger, underlined link above each list item to visit any of these sites and get your own meter.)
.
Here's where to find the good stuff:
*
There are two meters available at this site. One is a simple HTML tag, which looks like this:

The other is a cartoon featuring an unwitting writer guy with a mood you can tweak at will. According to rumor, he celebrates with a drink when he's reached his goal. Here's what he looks like in the throes of full-tilt computer rage: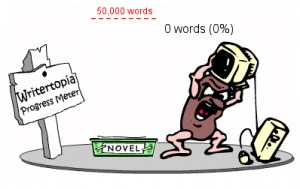 *
This word tracker is a simple HTML progress bar which does not rely on outside images. The site gives clear instructions on how to tweak and recolor it to your liking.
*
The counter below is another self-hosted cut-and-paste HTML code, and color can be modified easily.
*
Here's another HTML tool, but this one displays a word meter which can be clicked on — by you or anyone else — to view your daily progress statistics. This is the meter:
.

 .
And this is a screencap of the sample report shown on the site:
*
This counter does not have to be manually updated (as a few of the others do), so the benefit is that your code only has to be pasted in once. It works by using your Facebook login info, and you can toy with various color combinations to customize the display.
*
This is a visually clean and streamlined meter with more rounded edges. (And possibly my personal favorite in terms of style, though I haven't really decided which one to use on my own blog.)
*
Here's another rounded word bar, and I have to point and giggle at the instructions: "Don't enter anything except numbers, because the form can't generate a percentage with non-numeric characters. You can't really blame it; bet you can't, either." I love her already.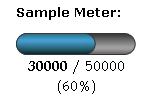 From the same artist, there's a NaNoWriMo spreadsheet you can download which comes in several designs: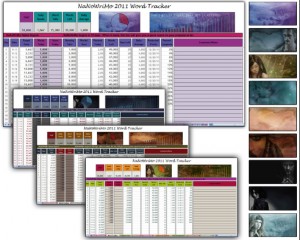 And if you're tracking your work across the entire year, she offers a yearly spreadsheet, too:
*
For those of you, like me, using WordPress, here's a plugin to help you manage your writing goals. It works via shortcode, can be modified using CSS, and could be pasted anywhere into your theme or layout. The developer includes coding tips on how to take it from basic black all the way to textured and image-based:
*
I definitely didn't Google any of those words. But how cool is that name? (Very, I know!) This scribometer — I swear, I'm going to figure out how to work that word into conversation once a day from now on — also comes in the form of a WordPress plugin and can be pulled in as a widget into your sidebar. It can be modified to various colors and sizes, too, and the site shows this as a basic starting point: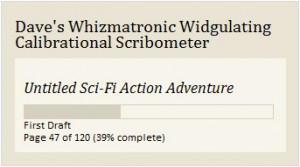 *
If the iGoogle homepage is your thing, the gadget directory shows several NaNoWriMo-specific tools which look pretty neat. (Actually, it shows it  even if it's not your thing. Semantics. You know what I mean.) One of the tools will compare the progress of your whole NaNo buddy list at a glance, and another will track the word counts for you and a competing friend side-by-side. Unfortunately, these may not be as cool as they sound; the time may have passed when they'd work properly. When NaNoWriMo reworked their site from scratch,it may have affected the compatibility of the Google toys. On the bright side, if there's was enough demand for these to exist before, there's a good chance they'll exist again or be upgraded themselves.
__________________
*
I had a heck of a time finding these things! I'm a Google fanatic, and usually pretty quick on the keys, but it took me more than ten minutes and twenty searches to find exactly what I wanted. I looked for a word counter. I looked for a manuscript progress meter. Display of word count. Writing word count. Novel widget. Word tracker, word counter, word tool. Book progress tracker. NaNoWriMo counter for blog. Sidebar counter, sidebar meter, sidebar bar, even. "Stupid progress thingie!!!!111."
Nada.
I tried lots of things, but until I got to the magic phrase, which turned out to be "word count meter", most of my searches were completely fruitless. And stressful. And aggravating. Therefore, I decided to gather what I found into one post, include all those remixed phrases, and hopefully save someone else the same hassle. I'm sure there are more.  That's why I'm asking: If you've had success with any of these or if you know of others that should be on the list, please let me know in the comments!
(top image credit)
38 Responses to "13 free writing meters, progress trackers, and word counters"